Artist info
Sounds like
San Cisco, Heaps Good Friends, Bombay Bicycle Club
---
band members
Joshua Blashki, Maxwell Korman, Samuel Korman, Michael Fisher
---
Website
Bio
Approachable Members of Your Local Community make music that's a gently heaving wave of team spirit and pop melodies; funny but not a joke, approachable but not simple, and generously glazed in extra servings of groove and charisma. Reliably funky and devilishly handsome in their matching Adidas, these nebbish boys from the more-recently-clean streets of St Kilda who make up the Approachable Members deliver a service the community knows and loves.
When Millennium Queen graced our ears, Australia agreed the Members were here to stay. Charting at #13 on Spotify Australia's Viral 50, the wildly popular debut was followed by the swirling funk of Semiotic Vision, and the upbeat Velcro, reminiscent of the Beach Boys' heyday – if that beach was located somewhere in Melbourne's southeast. Now it's 2019, and it's high time to expand the community.
From the groups beloved duet with Tamara Dream on the hit single Only Friend, to working with artist and director Giulia McGauran on their visuals, the Approachable movement extends beyond the music – the Approachable Members know collaboration is key to a successful community.
Whether it's touring with Joyride, writing with the likes of Japanese Wallpaper and Alex Lahey, or continuing their community-widening Australian tour, there's plenty coming up on the Community calendar. Working out of a brand new studio, they're excited to be able to get their hands dirty producing their own new tunes and plan the next approachable experience.
If you like getting a little bit drunk with your Grandma at Shabbat dinner, matching your outfit to your best friends, and deeply funky grooves, you might be a great addition to the team. Whatever you come for, Approachable Members Of Your Local Community just want to make you feel at home, and share their little slice of suburban paradise with you.
Why not join them at their next show for a cathartic boogie, and as the crowd sways from side to side, lost in a groove, don't forget to stay safe, and stay approachable.
Featured Artist
Melbourne, VIC
Get to know this week's triple j Unearthed, Approachable Members Of Your Local Community!
Read Interview
Tell us about your music. How did you develop your sound?
We developed our sound fairly organically by collaborating with one another and jamming at home – on and off, we've actually been playing music together for some years now. In 2017, we decided to take our ideas to the studio and recorded our first few songs, all lo-fi funk and groove. More recently we have been crafting ideas which we take to each other - adding to each other's ideas until we arrive at a song. Then we move into the production stage where we start fleshing out how exactly we want the song to feel and sound.
What's your greatest source of inspiration for making music?
Our greatest source of inspiration is the musical process itself. We are all passionate about making music. It is a wonderful creative process filled with emotion, commentary, thoughts and reflections which we can share with the world.
What can punters expect from an Approachable Members of Your Local Community live show?
The Approachable Members show is always a party - filled with groove, singalongs, outstretched stage banter and everything in between. We love to transform the space we're in, we've converted venues before into your neighbourhood street, complete with clothes lines, notice boards and street signs. We've recently decided to treat all of our sets like stadium pop inferno performances. Unfortunately most of the venues aren't delivering on our runway staging requests. Anyway, if you find yourself at an Approachable gig, you better make sure to equip your -19 decibels ear plugs – we make music for your ears, but we'd hate to be the cause of any long-term hearing damage.
What's the best advice you've been given and who was it from?
Shock horror, because the best advice we've been given is from our parents - to push the project as far as we can and have the best time in the process, but to keep straddling our day jobs and studies. It turns out it's super challenging to make much money from music and living off it would be truly quite a challenge.
What Australian track would you play to cheer up someone who was crying?
An Australian track with a near 100% success rate of cheering someone up is Ben Lee's 'We're all in this together.' While it might still be up to debate whether or not Ben Lee is a living genius who wrote the best pop hits of Australia in 2005, at least we can all agree that he's voice of our generation.
What Australian track would you play to someone to make them cry?
'The Summer' by Josh Pyke. And then apologise.
You're the DJ at a party. The dance floor is pumping. What Australian track do you put on next?
'Shooting Stars' by the Bag Raiders. We played this at our Splendour DJ set and it WENT OFF.
What was the last local gig you went to? How was it?
Jack River at The Forum. An amazing show and perfectly put together. We absolutely love her album. We think that she's really nailed an awesome pop sound. But her live show took it to a whole other level. And that was all before rock legend Alex Lahey snuck on stage and rocked out a sax solo. Obviously, we wept.
Tell us about the bands or people in the Melbourne music community that inspire you.
We are inspired by all of the friends around us, amazingly talented musicians and producers willing to share their knowledge with us. We currently share a studio with Japanese Wallpaper (Gab Strum) who produced our latest release 'On + On,' and a friend by the wild name of Hamish Patrick. Both of them are simply phenomenally talented - these guys inspire us. They've really helped us develop our songwriting and producing, and help us find a creative process which works best for us. We recognise that we're really fortunate in Melbourne to be a part of such a supportive community of musicians, producers, writers and visual artists that are always keen to give a helping hand.
What are your plans for 2019?
This is going to be a big year for Approachable Members. We just signed a deal with New York label AntiFragile which is outrageously exciting. We are currently working on a new EP titled 'Love Thy Neighbour', which we're hoping to release some more singles from very soon. We've got some very exciting collaborations with Australian artists on forthcoming singles, we can't wait for you to hear. If you follow our socials, you might already have some clues. Speaking of sounds, Bigsound is coming up, and we'll be heading to Brisbane! And maybe some other secrets too.
View Profile
Hide Interview
Unearthed in 2018
25 Mar 2018
Winner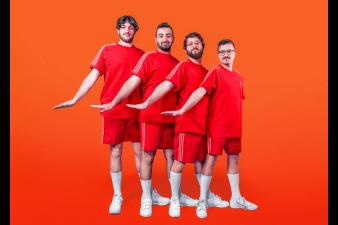 Heyyyyy, shout out to our winners!
They'll make a free clip with NIDA this year!
---
More
Review
Dave Ruby Howe
28 Oct 2019
Triple J
40
Show me the not-good song this band has written. Go on, I'm waiting. Didn't think so! Approachable Members continue their hot streak.
Show me the not-good song this band has written. Go on, I'm waiting. Didn't think so! Approachable Members continue their hot streak.
Review
Declan Byrne
22 Oct 2019
Triple J
40
last time i saw approachable members there was a sweaty room losing their mind to every song and i'm confident this one will get people jumping with pure joy too.
last time i saw approachable members there was a sweaty room losing their mind to every song and i'm confident this one will get people jumping with pure joy too.
Review
Only Friend (ft. Tamara Dream)
Nat Tencic
28 Nov 2018
Triple J
45
Chuck me in quarantine because this is infectious.
Chuck me in quarantine because this is infectious.