V O E are the next installment of the Drum and Bass contagion, taking the world by storm with their addictive out of this world sound. Carving their names into the scene with their latest releases including 'Not thinking Straight' with Telomic on Liquicity, 'Tunnel Vision' on Blackout Music as well as 'Regret & Repeat' & 'Let You In' on Australian born Global League. Breaking the mould of what you've come to expect from the pair and turning the mood from heightened dysphoria to dance floor stomping, opening doors to support from influential artists Koven, Ordure & Black Sun Empire. V O E are known for designing complex cinematic instrumentals and hard hitting vocals that surpass expectations of what it means to be enveloped by sound and emotion. Surrendering all inhibitions and exposing their own identities allowing weaknesses and vulnerability to set the foundations of a vocal strong hold. 2020 has seen V O E captivating a world wide audience as winners of Koven and NCS's Track and Build 2.0 competition landing them a composition and sync opportunity with Huey Games, Jagermeister & LabelRadar. Simultaneously taking out a top 5 spot on Black Sun Empires Remix competition, the duo continue to deliver a feast of new music with heart wrenching, dynamic vocals and addictive melodies combined with bass heavy drops while taking on the International music scene with upcoming releases on Viper, Liquicity, RAM, ProtoCode & Blackout Music. Now is the time to discover their sonance. Now is the time for V O E.
Review
V O E
30 Jul 2020
50
Take it away Maestro.. this is a special little gem, wow!
Take it away Maestro.. this is a special little gem, wow!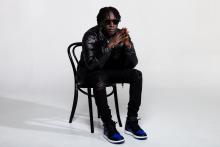 Review
V O E
30 Jul 2020
50
We should have done some stretches before listening to this - our bodies weren't ready.
Such a jam!!! <3
We should have done some stretches before listening to this - our bodies weren't ready.
Such a jam!!! <3